Description
Intense, nutty scent.
This is our number one product for the fall and winter. It's a favorite for fighting off stress and the blues of the season.
Hazelnut oil belongs to a group of so-called dry oils. It absorbs quickly and doesn't leave a sticky layer, this is why it is pretty awesome for use on the face. Rich in vitamins E and A and antioxidant benefits, it regenerates the skin and provides it with more elasticity. It rebuilds the protective barrier of the skin, which significantly improves its level of hydration. Quickly and deeply penetrates the structure of the epidermis, sealing blood vessels, which makes it a fantastic item to take care of couperose-prone skin. It is also known for its stabilizing and toning qualities, which help in the struggle against problematic or seborrhoeic oily skin.

V-label Vegan certified.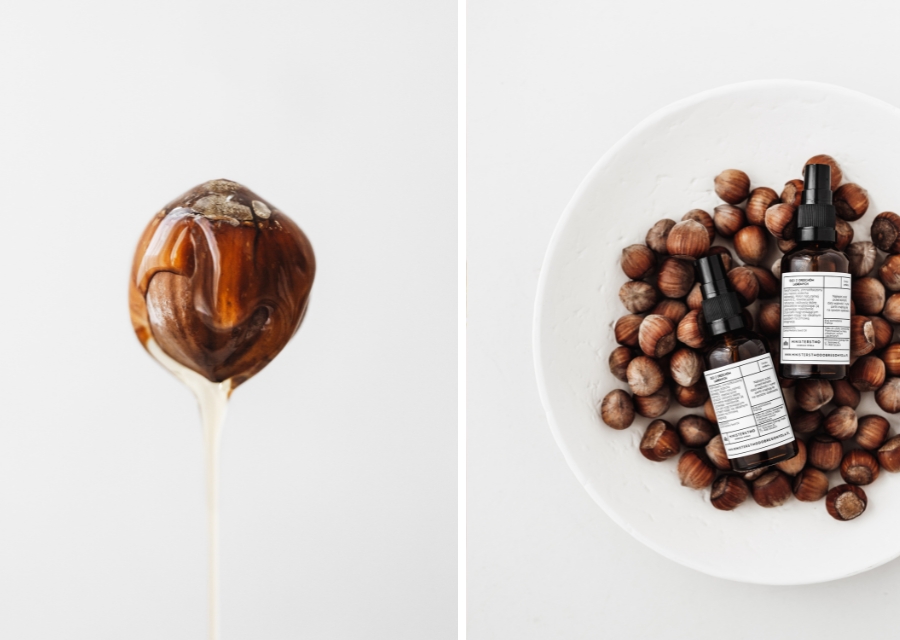 How to use
Use it as: face cream replacement, massage oil

Massage oil/ face oil: Apply a small portion of oil on moist body and/ or cleansed and moist face. Massage in a circular motion, until completely absorbed.

For external use only. Avoid contact with eyes. Store in a cold, dry, and dark place.
Ingredients
Ingredients (INCI): Corylus Avellana Seed Oil
Certificates and awards
Recycling
Glass bottle + pump with cap (PP, stainless steel spring, glass ball, PE) + label (PE - 30% Post-Consumer Waste recycled)
After use, unscrew the pump, remove the safety ring from the bottle and peel off the label. Place the pump, cap and ring in a container labeled "Plastic". Place the label in the mixed waste container. Place the bottle in the basket labeled "Glass".
The above product is 100% natural. Its aroma, color and consistency may differ slightly from batch to batch.


---
The photos show examples of arrangements using a given product. The price does not include decorative elements and applies to 1 piece of the described product.
---

Because our cosmetics are made entirely of natural ingredients (occasionally enriched with aromas), individuals with allergies may experience certain allergic reactions. In the event that you have an allergic reaction to any cosmetics, please stop using the product immediately and let us know what happened at hello@ministerstwo.io
Your previous questions regarding this product
Do you need help? Do you have any questions? :)
We always verify whether the customer has purchased the product and we display both positive and negative reviews.