Description
Bay laurel hydrosol moisturizes, tones, refreshes and regenerates the skin, soothes irritations and redness of the skin. It has a relaxing and soothing effect on the skin, softens it and prevents the skin from become shiny. Improves the overall appearance of the skin, and is suitable for combination and oily skin.
Has antibacterial activity (confirmed).
Laurel hydrosol is a cosmetic product that can be recommended for facial skin care in people with oily, combination and dry skin and for those with tendency for acne. We have so much love for this little stinker! It reminds us of the places we want to go back to and the real smells of nature - strong and herbal, sometimes grassy, sometimes slightly acidic like morning dew on hay, the end of the gravel road along the slope of the mountain, and a night under the stars in a chestnut hut. We would like to invite you to the world distilled from laurel leaves.

Laurel is a real treasure.
100 ml of the hydrosol was made from 200 g of plant material.

V-label Vegan certified.

History

Somewhere in the south of France, in the middle of a wild National Park, stands an old stone house. Small pieces of this material laid tightly and impressively high, often without mortar at all, take on the form of fences, residences and churches in this region. They fit into the landscape as discreetly as if they grew here along with the grass, trees and herbs. During the day it is quiet and at night it is quiet and completely dark - at night hardly any lanterns, street lamps or neon lights burn here. The stone slate house is surrounded by a starry reserve. We sleep in a small hut outside, which formerly served as a drying room for sweet chestnuts. To our surprise at night it is warm here and during the day pleasantly cool - heated stone gives off and takes away heat exactly when you need it to. Inside there is a double bed and one chair. There is no reception, no WiFi. The first night we cannot sleep, there is no lock in the door and beyond we hear the intense nightlife of the Park. On the second night we sleep like babies. From now on it will always be like that when we are there. There is no sleep like the kind that happens in perfect conditions, a world away from the sounds and lights of other humans. Not far from the house there is a beautiful old laurel tree. We take some leaves from it to be used for our soups and sauces at home. We stuff them in our pockets and translator Agata rubs them between her fingers. "This will be perfect for a hydrosol", says our friend, the owner of the stone house. "We'll use the cooperative distillery and go to the village to distill it. We just need to collect leaves with as few branches as possible at the right time. With 2 kg of herbs we will prepare 1 litre of hydrosol for you. It will be lovely." We bring the bay laurel back to Poland to check it in our laboratory. After a few months of research we already know what we hold in our hands. We read documents with blushes on our faces.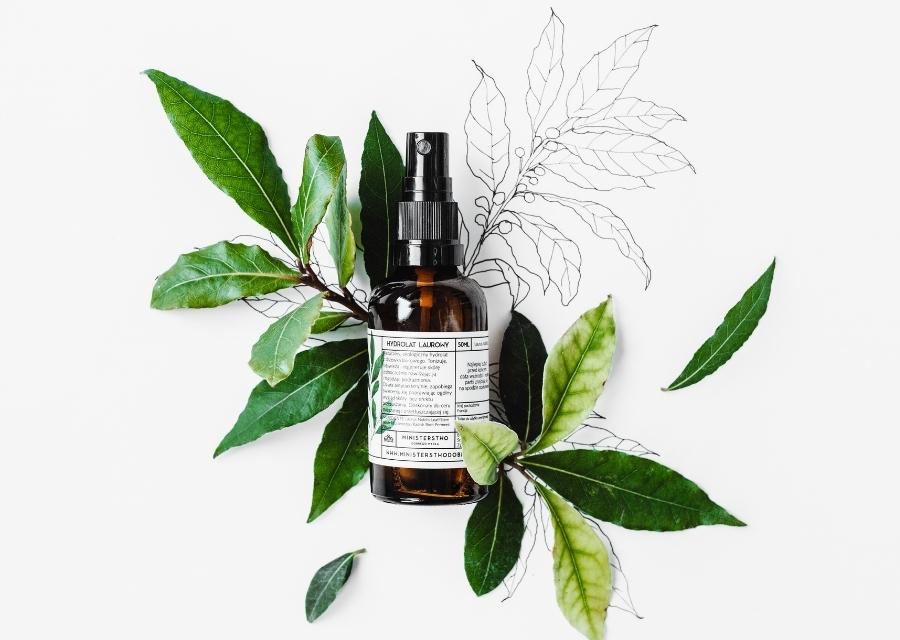 How to use
Use it as: toner, face mist, foundation for oil/cream

Apply directly to the skin spraying it straight from the bottle or by putting some of it on a cotton swab to wipe your face.

For external use only. Store in a cold, dry, and dark place.
Ingredients
Ingredients (INCI): Laurus Nobilis Leaf/Stem Water, Leuconostoc/Radish Root Ferment Filtrate
Certificates and awards
Recycling
Glass bottle + atomizer with cap (PP, stainless steel, glass ball, PVC gasket, PE tube) + label (PE)
After use, remove the cap and unscrew the atomizer. Place the cap and the atomizer in the "Plastic" container or hand over to a separate collection of caps. Peel off the label and place it in the mixed waste container. Place the bottle in the basket labeled "Glass".
About Hydrosols:
Hydrosols are produced by distilling whole plants or their parts with steam. In a word, hydrosols are herbal or flower water infusions. They retain active substances of the plants from which they were prepared, this is why using hydrosols is a great and natural method to keep the skin refreshed and moisturized. We recommend using them as a makeup remover, skin cleanser or moisturizer just before applying oil or cream. Their beautiful scents have aromatherapeutic effects, relaxing and relieving stress out - or if you like - stimulating you into action.


---

The above product is 100% natural. Its aroma, color and consistency may differ slightly from batch to batch.


---
The photos show examples of arrangements using a given product. The price does not include decorative elements and applies to 1 piece of the described product.
---

Because our cosmetics are made entirely of natural ingredients (occasionally enriched with aromas), individuals with allergies may experience certain allergic reactions. In the event that you have an allergic reaction to any cosmetics, please stop using the product immediately and let us know what happened at hello@ministerstwo.io


Your previous questions regarding this product
Do you need help? Do you have any questions? :)
Weryfikujemy, czy Klient zakupił dany produkt. Wyświetlamy zarówno pozytywne, jak i negatywne opinie.