Description
This lotion bar is a daily body (and lip) care encapsulated in a handy, compact, and waterless form. Lo and behold – Saffron! It is a nourishing, vegan, zero-waste body lotion bar. This brilliant combo of vegetable butters (shea, cocoa, illipe), waxes, and oils (including unrefined safflower oil and raspberry seed oil), enriched with omega 3 and 6 fatty acids and vitamin E (tocopherol) is a great fit for dry, irritated skin, in need of a solid dose of TLC and nourishment.
Saffron lotion bar brings instant relief to dry and chapped skin. It fosters skin regeneration, providing hydration while leaving the skin supple, smooth, and soft. Soothes skin irritation and redness, bringing comfort to dehydrated skin.
In contact with body heat, the surface of the lotion bar turns into a pleasant oil, making application easier. After applying, Saffron leaves a pleasant layer of goodness on the skin, creating a perfect barrier protecting it from wind, cold, and frost. It is also great at preventing transepidermal water loss (TEWL) and reducing it by up to 22%! After applying, it does not leave the skin feeling sticky. It fits well in a tin and likes to travel. And how does it smell? It's our favorite oriental combination of patchouli, rosewood, lemongrass, lavender, and clementine. Wishing your senses a pleasant journey! :).
Dermatologically tested.

V-label Vegan certified.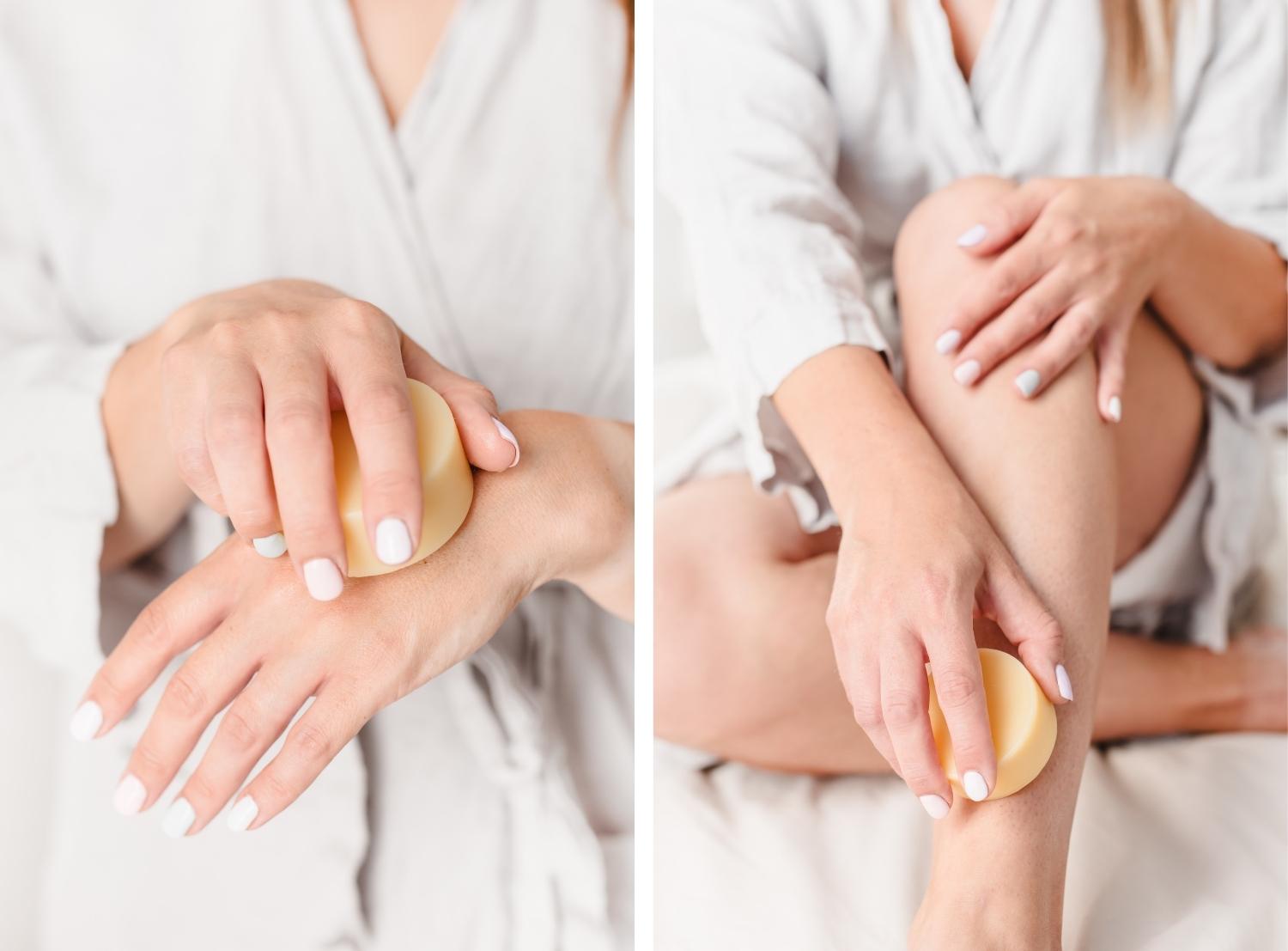 How it works
Based on the in-use and instrumental tests we. can confirm that Saffron - a nourishing body lotion bar, is a cosmetic suitable for the daily care of the skin, regardless of its type. It is also suitable for use in lip care.

Below find the results of the in-use test*. Body lotion bar - Saffron:

100% of respondents confirm that:
- Saffron brings instant relief to dry and chapped skin,
- it gives a feeling of hydration to the skin.

More than 90% of respondents confirm that:
- it's gentle on the skin,
- leaves the skin soft and silky,
- brings relief, reducing the unpleasant feeling of tightness of the skin on the lips,
- leaves the skin smooth,
- provides the skin of the body and lips with proper care, improving skin hydration and lubrication,
- gives a feeling of intense nourishment, reduces dryness and roughness of the skin,
- it is an ideal cosmetic to bring along on a trip,
- improves the suppleness of the skin,
- gives a feeling of restored skin on the body and lips,
- leaves a pleasant layer on the skin and lips, creating a perfect barrier protecting them from hydration loss, as well as wind, cold, and frost,
- increases skin firmness,
- improves the overall condition and appearance of the skin and lips,
- properly cares for dry and chapped lips,
- it has a pleasant smell.

Additionally:
- Saffron reduces excessive flaking of the skin,
- it is suitable for use on the lips,
- relieves redness of the skin,
- it is suitable for use after sunbathing, depilation,
- it is cost-effective, and the application is easy and convenient.

* In-use test was conducted by an independent laboratory on a group of 40 people with dry and normal skin, aged 23-50

Here are the results of the instrumental study**:
- regular use of Saffron - nourishing lotion bar - strengthens the epidermal barrier and reduces Transepidermal Water Loss (TEWL) by 22%.
** The instrumental study (measuring the TEWL parameter) was conducted by an independent laboratory on a group of 20 people aged 23-50.
How to use
Warm up the lotion bar in the palm of your hand or apply it directly on skin and rub briskly several times. Apply the lotion to the body (especially on dry areas) by rubbing the bar directly onto the skin, or apply to the palms of your hands and proceed with applying the lotion on the parts of the body that need it.
The lotion can be applied to lips and/or skin right after bathing. Use 1-2 times a day.

Warning: The lotion bar may melt in high temperatures (above 40'C). Please keep it away from direct sunlight.

For external use only. Avoid contact with eyes. Store in a cool, dry place, away from direct sunlight.
Ingredients
Ingredients (INCI): Butyrospermum Parkii Butter, Theobroma Cacao Seed Butter, Rhus Verniciflua Peel Cera, Shorea Stenoptera Seed Butter, Euphorbia Cerifera Cera Wax, Carthamus Tinctorius Seed Oil*, Ricinus Communis Seed Oil, Prunus Amygdalus Dulcis Oil, Prunus Persica Kernel Oil, Triolein, Helianthus Annuus Seed Oil, Rubus Idaeus Seed Oil*, Glyceryl Dioleate, Shea Butter Ethyl Esters, Almond/Borage/Linseed/Olive Acids/Glycerides, Squalane, Lavandula Angustifolia Oil, Sodium Hyaluronate, Calendula Officinalis Flower, Cymbopogon Citratus Leaf Oil, Dalbergia Sissoo Wood Oil, Pogostemon Cablin Leaf Oil, Centella Asiatica Extract, Tocopherol, Citrus Nobilis Peel Oil Expressed, Hydrogenated Castor Oil, Citric Acid, Ascorbyl Palmitate, Coumarin**, Geraniol**, Linalool**, Limonene**, Citral**

* Unrefined
** Allergens
Certificates and awards
Recycling
Paper made using residues from the production of organic products (corn pulp), greaseproof paper
Unfold the cardboard and place it in a bin labeled "Paper" or a biodegradable waste container. Put the paper in which the balm is wrapped in the basket marked "Paper".
This is an artisanal product prepared from natural ingredients, therefore its scent, color and texture may vary slightly from batch to batch.


---
The photos show examples of arrangements using a given product. The price does not include decorative elements and applies to 1 piece of the described product.
---

Because our cosmetics are made entirely of natural ingredients (occasionally enriched with aromas), individuals with allergies may experience certain allergic reactions. In the event that you have an allergic reaction to any cosmetics, please stop using the product immediately and let us know what happened at hello@ministerstwo.io


Your previous questions regarding this product
Do you need help? Do you have any questions? :)
Weryfikujemy, czy Klient zakupił dany produkt. Wyświetlamy zarówno pozytywne, jak i negatywne opinie.